Posted on 26. May, 2007 by George in time management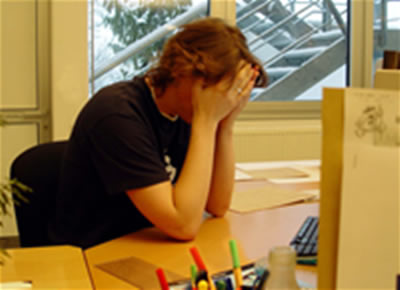 Do you always find yourself having tons of school work at the last minute? Does the phrase "exams are around the corner" unfailingly give you panic attacks?
If you answered in the affirmative to any of the questions mentioned above, then you are undeniably guilty of wasting a precious resource— time.
Like most students, you may get a rush out of beating the clock and submitting your homework, although sloppily done, on time.
This chronic battle waged during crunch time invariably leads to the ubiquitous raccoon eyes and zits popping uncontrollably all over your face.
And as you continue to cope with the nerve wracking pressure of accomplishing so much in so little time, our once gentle personality mutates into a hideous monster.
While there may be no getting around job orders, here re some essential tips of managing your time efficiently:
1. Write a to-do list.
Keep a record of all your tasks such as school assignments, presentations and household chores. There is something about the written word that makes it harder to ignore. This list is also an easy way for you to keep track of what needs to be done and when the due dates are.
2. Prioritize.
Once all the tasks are listed already, prioritize them according to their sense of urgency. Arrange the tasks whether they are due in the next few days, weeks or months. It only makes sense that a presentation due tomorrow will be given more importance than one that is due a month from now.
3. Act. Do not procrastinate.
All your dreams, plans and goals are worthless if you don't act on them. Your ideals, no matter how lofty, will not come to fruition if you remain rooted to where you are. While it is true that you have a tendency, like the rest of nature, to follow the line of least resistance in surviving this challenging world, you can evolve and turn out to be way stronger than you once were.
Say goodbye to stalls. Stop making alibis. Kick those enumerable excuses that hinders you from becoming a better person. Act now.
4. Tackle the toughest assignments first.
When you have two or more projects to finish, try to accomplish the more difficult one first before proceeding to the next. In that way, your mind will be clearer and you will get through it more quickly.
5. Remove distractions.
In order to maximize your time, you should remain focused on your tasks. This means that you have to minimize, if not totally remove, all the distractions surrounding you. Turn off the television, lower down the volume of the beat blaring from the radio, tell your little siblings to stop screaming at each other and keep your mobile phone outside your reach. Do not try sneaking at your incoming text messages and tell your parents that you won't be receiving any calls for a few hours.
6. Use rewards to mark your progress.
A tireless 24/7 machine you are most definitely not, so don't forget to indulge in life's little pleasures. You can set a contract with yourself that after finishing a certain work, you can pamper yourself with a manicure or a short stroll around your neighborhood. For harder tasks, you can always treat yourself to your favourite restaurant.
Always remember that every project ticked off that list brings you one step closer to a more manageable schedule